Celebrating our 30th anniversary, Norwalk River Rowing Association (NRRA) has hired Edward Slater as Executive Director and begins construction of a new facility on the Norwalk River!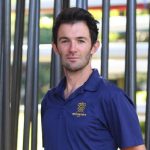 Slater, born and raised in New York City, first started rowing in 1998 at St. Mark's School in Southborough, MA. The sport brought Slater to Connecticut in 2002, where he began to coach and scull at the Saugatuck Rowing Club. In 2003, Slater enrolled at Trinity College in Hartford where he was mentored by Coach Larry Gluckman. There, Slater and his fellow oarsmen began to raise the bar for Division III rowing across the country, leading to gold medals at the Head of the Charles, the New England Championship, and the Henley Royal regatta. Serving as captain for the 2005-2006 season, Slater's Varsity boat was ranked 13th in the country.
In 2010, Slater became Associate Head Coach and Director of Recruiting for the Trinity College Men's Rowing program. In the ensuing six years, the student-athletes he coached earned medals at the Head of the Charles, Dartmouth Green Monster, Knecht Cup, New England Championship and USRowing's National Invitational Rowing Championship. Beyond coaching at Trinity, Slater worked to recruit and mentor the team's student-athletes. Since 2002, Slater's coaching extended to the Craftsbury Outdoor Center in Vermont and WeCanRow-Boston, a wellness program for breast cancer survivors.
"We could not be happier welcoming Ed to the Norwalk River Rowing community at this exciting time in the club's history," said Alex Chapman, Chairman of the our Board of Directors. "His impressive rowing and management record and his infectious enthusiasm for the sport are exactly what is needed as we enter this new stage of growth."
As Executive Director, Slater will oversee all programs and operations of the club, working with the Board of Directors and membership to expand our success and outreach into the community.
"It is an honor to join the Norwalk River Rowing family," Slater said. "For the past thirty years, Norwalk has been a gold standard for club rowing in the United States. With the construction of a new boathouse, we will redefine community rowing in Norwalk, CT. I greatly look forward to working with our Masters, Student-Athletes, and Parents in embracing the opportunity to lead Norwalk River Rowing's membership toward success on and off the water."
While construction prep has already begun, September will mark the beginning of the assembly of Norwalk's new boathouse. It will be the first such structure built on the banks of the Norwalk River.
The Norwalk River Rowing Association, founded in 1986, is a 501(c)3 non-profit organization focused in community rowing.