NRRA's novice and varsity teams raced at the Saratoga Invitational last weekend, with 14 crews bringing home medals in 10 events, including one Gold medal finish, four Silver medal finishes and nine Bronze medal finishes.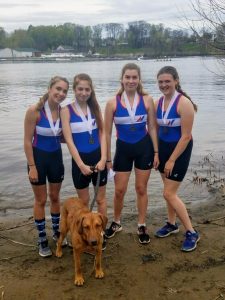 The 20th annual Saratoga Invitational regatta, held at Fish Creek in Saratoga Springs, NY, is America's largest sprint race, featuring 10 lanes of 1,500 meter racing among top crews from the Northeast. More than 40 NRRA rowers from Wilton, Ridgefield, Norwalk, Fairfield, Darien, Stamford and Pound Ridge competed in 29 events during this prestigious two-day race. The team started off strong and, despite high winds and rain on the first day, the girls and boys teams kept the momentum going.
Ian Trostle and Lorenzo Del'Innocenti took Gold in the Varsity Men's Lightweight Double at 5:27.700. This was one among many outstanding performances by team members, as NRRA came in the top 5 in the majority of its races against a field of 64 competitive teams.
NRRA medal winners included:
Gold:
Ian Trostle, Pound Ridge
Lorenzo Del'Innocenti, Westport
Silver:
Adam Harley, Wilton
Ben Hufnagel, Norwalk
Kevin Lenihan (x2), Wilton
Oliver Peacock, Wilton
Bo Pollio (x2), Darien
Ethan Reichgut, Wilton
Brad Spiewak, Wilton
Jamie Trentos, Wilton
Ian Trostle, Pound Ridge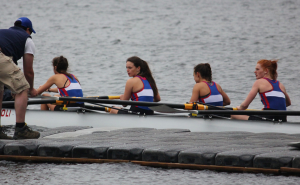 Bronze:
Luke Briglin, Wilton
Josie Constantine, Stamford
Austin Crowell, Wilton
Lorenzo Del'Innocenti (x2), Westport
Isabella DeSantis, Ridgefield
Kayla Heber, Wilton
Jay Kineon, Wilton
Kaden Lintz, Norwalk
John Markow, Norwalk
Lee McAndrews, Fairfield
Oliver Peacock (x2), Wilton
Bo Pollio, Darien
Matt Rauccio, Wilton
Ethan Reichgut, Wilton
Lia Schlegel, Norwalk
Alex Stepnowsky, Wilton
Ian Trostle, Pound Ridge
The NRRA women are coached by Drew Combs, Stephanie Allgood, and Devon Brameier while the men are coached by Yuri Kolomiets, Irinia Skobreva and Luke Auger. NRRA's next race will be the Founders Day regatta on May 7th in Kent, CT.
Norwalk River Rowing Association, a 501(c)3 non-profit organization founded in 1986, promotes a lifelong passion for the sport of rowing, regardless of age or income. NRRA has cultivated elite, competitive racing programs for both youth and adults which have competed in the US Rowing National Championships. NRRA recruits athletes from many local Connecticut and New York towns including Darien, Norwalk, Ridgefield, Stamford, Westport, Weston, and Wilton, CT, as well as Bedford, Cross River and Pound Ridge, NY. Our world-class coaching staff provides a comprehensive program of rowing courses and activities for both youths and adults at all ability levels, in a passionate and friendly environment from the club's prime site on the Norwalk River. Visit us at www.NorwalkRiverRowing.org or check out our Facebook page for more information or to get involved.
For more information contact:
Stephanie Allgood
Stephanie (at) norwalkriverrowing.org