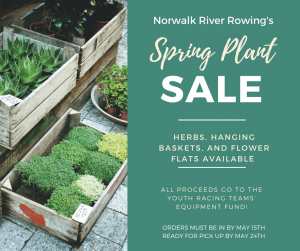 It seems that April's showers truly have brought May flowers!
As most of you may have seen on our Facebook page or in our members only Facebook group (which you can join here if you haven't already!), our Youth Racing teams are hosting a Spring Plant Sale to raise money for their equipment fund!
We have a variety of plants for sale ranging from beautiful hanging baskets to a variety of herbs and flowers for potting. All proceeds from this fundraiser go directly to the equipment fund! So if you were planning on beautifying your home and garden or know someone who is, please order your flowers through us and support your club!
Orders are to be in by May 15th for delivery on May 24th! Pick up will be at the shellhouse (1 Moodys Lane, Norwalk) on the 24th from 12pm to 6:30pm.
Please pass this post on to all of your friends and families. Beautiful gardens are not limited to rowers only!
If you have any questions, don't hesitate to reach out to Devon (devonb (at) norwalkriverrowing.org)  or Drew (drewc (at) norwalkriverrowing.org), we would be happy to help.