Donate to the NRRA Community Challenge 2019 Fund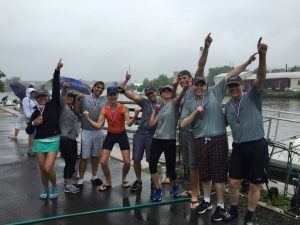 The Annual Community Challenge is a fun way for friends, businesses, church groups, co-workers to join together, learn to row and have some fun.  Click Here if you want to learn more about the Community Challenge.
Another goal of the Community Challenge is to help raise funds for the Norwalk River Rowing Association. As a non-profit organization, we aim to promote a lifelong passion for the sport of rowing for adult and youth athletes. All funds raised will support the organization as a whole.
As part of its mission, Norwalk River Rowing Association provides rowing scholarships to youth who in need of financial assistance through the Matthew Zucker Memorial Fund, one of the beneficiaries of the funds raised  through this event.
Each team has been asked to reach out to friends, colleagues, family to raise a few bucks.  Please consider donating any amount.  When you donate, don't forget to mention the Community Challenge Team you are supporting.
Help spread the word!  If you tell two friends, and they tell two friends…..