The Matthew Zucker Memorial Fund helps to provide the funding for financial assistance for youth in need, the equipment needed to support these rowers and their teams, and Outreach programs which help to bring in non-typical athletes and introduce them to rowing.
Donations
Your donations make this possible.
You can donate to the Memorial Fund below.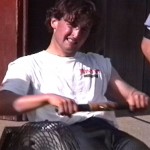 Matthew Zucker was a member of the Norwalk River Rowing Association (NRRA) Youth Rowing Program from 1994 to 1996. His rowing experience was instrumental in helping to improve his self-discipline and self-confidence and gave him a focus he soon grew to embrace. Shortly before his high school graduation, Matthew fell victim to brain cancer and died in 1998. His family established the Matthew Zucker Memorial Fund within the Norwalk River Rowing Association to promote youth rowing and provide financial support for students in need of assistance in order to row.
Note – Safari users, please switch over to either Chrome, Firefox, or if your shopping cart continues to empty, please use www.regattacentral.com/clubs/and scroll to Norwalk River Rowing program offerings.