Annual NRRA Community Challenge 2015
Starting: Monday, May 11, 2015
Race Day: Saturday, June 20, 2015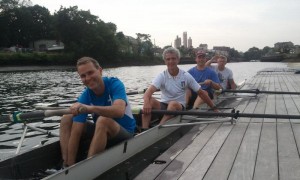 What is the NRRA Community Challenge?
A fun rowing and team-building experience involving businesses, groups and friends.
A fundraiser to support the organization, providing rowing experience to all regardless of age or income
What do you get?
6 weeks of learning to row and race preparation on the Norwalk River with a dedicated coach
A promotion of teamwork, community spirit and camaraderie
Fitness! Rowing is a whole body sport which incorporates cardio and strength training.
A fun-filled finale of races, party and hilarity!
No previous experience is necessary!
Participants will learn basic boat handling & rowing technique through the first 4 weeks of the program. During this time, teams will develop rowing and racing skills through teamwork and common goals. The final two weeks will focus on race preparation, including practice races against other community crews.
Here's a video that sums up the experience. Most of the rowers in this video have never rowed before participating in the Community Challenge program.

Exciting, right?!?  You CAN do this! It really is great fun working as a team together.
Levels of competition
Challenger Series – A category for those new to the sport. At least 8 of the 10 team members in the Eight and 5 of the 6 team members in the Four must be novices.
Defender Series – A category open to the best rowers in your organization. No restrictions on rowing experience, so look out for those ringers!
Team Size – you put the boat together. Bring your team!
Eights: 10 participants (8 rowers, 1 coxswain and a spare). At least 2 women must part of the team.
Price:
$250/person; $2500 per boat
Fours: 6 participants (4 rowers, 1 coxswain and a spare). At least 1 woman must be part of the team.
Price:
$300/person; $1800 per boat
Click here to jump to PAY OPTIONS
Fundraising
One goal of the Community Challenge is to fundraise. As a non-profit organization, we aim to promote a lifelong passion for the sport of rowing for adult and youth athletes. All funds raised will support the organization as a whole. Each team will have a fundraising page through Activenetworks.com. The team who raises the most money receives a prize!
Helpful Hints
Your body type and physical fitness are not barriers! Winning teams are the result of teamwork, enthusiasm, and determination.
All participants must have basic swimming skills and sign a waiver.
Ideally, coxswains should be small, have a strong voice, and like issuing orders!
Practice Times:
Mon & Wed: 6-7:30pm;  7-8:30pm
Tue & Thu:  6-7:30pm;  7-8:30pm
Custom times including some mornings may be available
Optional "All Row Together" – Sunday 4pm.  Want a little extra practice? Missed your session during the week. On Sundays, we mix crews and review skills for an enhanced rowing experience.
Help spread the word! Print out this flyer and post in your office, church, store, etc. Hand it out to your friends!  Let everyone know about the fun they could be having!