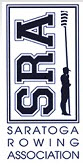 Our athletes are ready to compete at the 19th Annual Saratoga Invitational ·  Hosted By Saratoga Rowing Association
Please read the entire message carefully, for it contains important information.
Date:
Saturday April 25, 2015 through Sunday April 26, 2015.
Address/ GPS:
All viewing, parking and tenting is across the lake from the Saratoga Boathouse at:  Lee's Park Campground
1464 NY-9P, Saratoga Springs, NY 12866
Weather:
Please plan for the weather. Check weather conditions in  Saratoga Springs when packing clothes for the weekend.
Apparel:
NRRA unisuit, JL long sleeve, jacket, sneakers, sweatshirts, rain coat, change of clothes *depending on weather. Prepare prepare prepare!
Parking and Venue Map: Click here Venue Map
Heat Sheets: Not yet available. Check here during the week prior to the regatta. Once published, the race schedule is subject to change at any time.
All races are 1500m.  They will use the 10-lane race course.  For races that progress to a Championship Final, they will use 9 lanes – the TOP 9 boats from Saturday heats will be in Sunday Finals. More Info
Parking for Spectators: 
Teams will NOT be allowed to access the regatta site until FRIDAY – at noon.
Parking Fee – On site parking for all cars/trucks is $10/day.  Please try to have the exact amount ready.
Buses
Athletes should arrive at the slab no later than 4:15 am to prepare for departure.
Buses will leave the boathouse on Saturday, April 18, at 4:30 am sharp for the entire racing team (Varsity and Novice)!
SHHHHH!!!  Please remind your athlete to turn their radio off as they approach the slab and to speak very quietly once out of their cars.  No honking, shouting, loud radios, etc.  Our good neighbors at the condominium are sleeping at that hour and we want to stay on good terms with them.
Meals
As always, food will be provided for athletes during the day, free of charge, at the Parent Tent. Parents/friends who wish to eat at the Parent Tent are asked to provide a $10 donation per person.
Reminder:
WATER BOTTLES!  Please remind your athlete to pack a re-usable water bottle for use at the regatta, preferably with their name on it.  We provide large 5 gallon jugs of water for drinking at regattas — we do NOT provide flats of individual water bottles.  Athletes that do not remember their water bottles may have nothing to dispense water into if the cups run out and will have no way to transport water with them.
—————————————————————————————————-
This will be an overnight regatta for everyone!
Hotel
Holiday Inn Express
400 Old London Road
Latham, NY
Coaches and chaperones will stay with the team at the hotel.
4 rowers of the same gender will share one room with two queen size beds. If your rower is not comfortable with sharing a bed, please bring a sleeping bag.
Dinner
Dinner will be held at hotel.  Stephanie will collect $20 per athlete.
Overnight Rules For ALL rowers
Keep in mind that all athletes have read and signed the Eligibility and Participation Contract. Athletes are very aware of any consequences they will face in the event of a violation.
Lineups will be released by coaches, and are subject to change at coaches' discretion.

Go Norwalk!
More Parking  and  Site Info from Saratoga Rowing Association
We recommend that teams and spectators carpool to limit vehicles at the site.  The following rules apply:
Site Access:  Teams will NOT be allowed to access the regatta site until FRIDAY – at noon.  Anyone needing to arrive earlier must contact Chris Chase at chaserow1@gmail.com
Parking Fee – On site parking for all cars/trucks is

$10/day

.  Please try to have the exact amount ready.
Trailer Parking – Follow Instructions when entering site.  There will be a separate section for tow vehicles.
Bus Parking – Buses will need a permit to park.  Forms are on the Regatta Central link to each regatta.  Each bus will receive a parking pass to put into the windshield.  Coaches will need to fill this out well in advance in order for us to appropriate the right amount of space.
Carry In – Carry Out – Please respect the property and have your team pick up after themselves.  There are dumpsters on site.
Information – There will be an SRA Information booth at the Registration Tent. – HAVE FUN!
Lost and Found – Found at the Registration Tent or the Timing Trailer.
Speeding – Lee's Park does the best they can to keep the bumps out and the roads watered for no dust.  They are very particular about speeders and will kick out anyone who goes too fast.  Please keep your speed low, and watch out for the kids running in and out.

Note:  Vehicles that violate parking rules will be subject to towing at owner's expense. Cars ARE SIMPLY Not allowed down by the water on any of the days.  For those showing up on the Friday practice session, please park in the back fields.