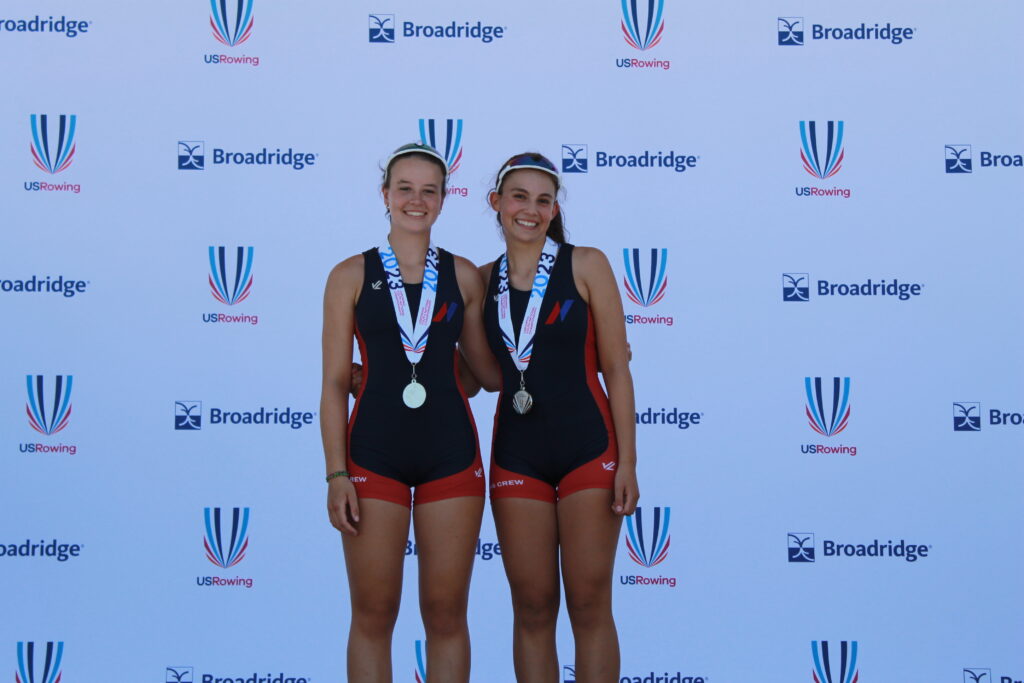 After a strong showing at Northeast Regionals in May, 25 young athletes from Norwalk's own Norwalk River Rowing club qualified for the 2023 USRowing Youth National Championships, in Sarasota, Florida earlier this month, besting some of the largest crew teams across the country.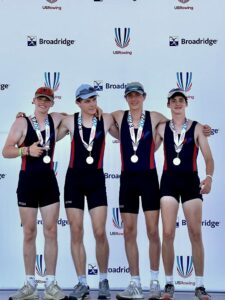 Congratulations to Maia Andjelkovic, Ella Trudeau, Cash Worthington, Robert Redpath, Erik Huss and  Felix Poydar who each took home Silver Medals in their respective races earning themselves second in the Nation standing. Ella Trudeau, a rising junior at Lauralton Hall, was also a silver medalist in the 2022 Youth National Rowing Championships, Trudeau returned and won Silver again in this year's U17 Women's Double Scull with rowing partner, Maia Andjelkovic. 
This year's Youth Nationals was the largest ever with 225 clubs and 4,000 athletes competing in a scorching heat index of 100 degrees.  With six Silver medalists and all 25 rowers finishing among the top 30 boats in the nation, Norwalk River Rowing Association (NRRA), a non-profit community rowing club, is on an undeniable winning streak this year. Norwalk River Rowing draws middle school and high school rowers from towns across Fairfield county. 
 Here's the tally for Norwalk River Rowing at Nationals this year:
A Finals – National Medalists
Silver – Women's U17 Doubles – Maia Andjelkovic, Ella Trudeau (stroke) 7:50.130

Silver – Men's U17 Quad – Cash Worthington (Bow), Robert Redpath, Erik Huss, Felix Poydar 6:28.918
B Finals
1st place finish / 9th in Nation – Women's U17 Quad – Zoe Bienstock, Anna Coppola, Savona Bocchino, MacKenzie Mitchell 7:38.086
C Finals
1st place finish / 17th in Nation – Women's U16 Quad+ – Charlie Harden, Dylan Payne, Tanaya Dixit, Leila Fairchild, Giancarlo Conte (coxswain)8:19.915
Top 30 boats in the nation
Men's U19 Double – Alex Blaskiewicz, Evan McDonnell 7:14.984

Men's U19 Quad – Conor Wetzel, Luke Jameson (Bow), Max Reznik, Roberto Toraty 6:41.854

Women's U19 Quad – Ella Carbonaro, Abby Carpenter, Sofia Blessing, Sophie Brauweiler 7:41.760
 These youth rowers credit NRRA's Learn to Row program as their entree to the sport in the last two years. NRRA's program is designed and overseen by former US Olympic rowing head coach Steve Quagliano and the guidance of coaches Bob Florio, Vinny Houston and Ford Smith. Norwalk River Rowing currently offers Learn to Row, Developmental rowing and Racing programs as a part of its summer program offering in preparation for the Fall rowing season. See NorwalkRiverRowing.org to learn more about its programs and non-profit community mission.