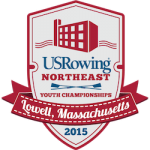 Hello Parents, We are getting set for our last team regatta for the spring racing season! US Rowing Northeast Championship.  We will be going up Friday morning for a Friday afternoon practice at the race course.
 Date:  Friday, May 15th through Sunday, May 17th 2015.
 Address/ GPS:
500 Pawtucket Boulevard
Route 113
Lowell, Massachusetts 01854
Weather:
Please plan for the weather. Check weather conditions in Lowell when packing clothes for the weekend.
 Apparel:
NRRA unisuit, JL long sleeve, jacket, sneakers, sweatshirts, rain coat, change of clothes *depending on weather. SUNSCREEN & HATS are highly suggested.
 Parking and Venue Map:
Merrimack River Lowell Mass.
 There are two locations for launching at this event:
Bellegarde Boathouse
500 Pawtucket Boulevard
Route 113
Lowell, Massachusetts 01854
Rynne Bath House (wet launch location)
157 Pawtucket Blvd.
Lowell Massachusetts 01854
Heat Sheets:  Event list can be found  Tentative Schedule of Events
Buses
Athletes should arrive at the slab no later than 9:45 am to prepare for departure.
Buses will leave the boathouse on Friday, May 15th 10am sharp for the entire racing team (Varsity and Novice)!  All athletes unless previously stated will be taking the bus to and from regatta, no exceptions!
Meals
As always, food will be provided for athletes during the day, free of charge, at the Parent Tent. Parents/friends who wish to eat at the Parent Tent are asked to provide a $10 donation per person.
Reminder:
WATER BOTTLES!  Please remind your athlete to pack a re-usable water bottle for use at the regatta, preferably with their name on it.  We provide large 5 gallon jugs of water for drinking at regattas — we do NOT provide flats of individual water bottles.  Athletes that do not remember their water bottles may have nothing to dispense water into if the cups run out and will have no way to transport water with them.
 —————————–—————————————————–
This will be an overnight regatta for everyone!
Hotel
Courtyard Nashua
2200 Southwood Drive
Nashua, New Hampshire 03063 USA
Coaches and chaperones will stay with the team at the hotel.
4 rowers of the same gender will share one room with two queen size beds. If your rower is not comfortable with sharing a bed, please bring a sleeping bag. 
Dinner
Dinner will be held at hotel.  Chaperones will collect $40 from each athlete on bus, this will cover both nights of dinner.
Overnight Rules For ALL rowers
Keep in mind that all athletes have read and signed the Eligibility and Participation Contract. Athletes are very aware of any consequences they will face in the event of a violation.
Go Norwalk!