Calling all rowers!!!… Come row an "erg", a stationary rowing machine, and together help us go 1 million meters……Free event t-shirt to all participants while supplies last. See below for details.
Calling all bakers!!!… Bake, or buy, goods for our bake sale going on along the ergathon. All donated backed goods should be delivered to the practice trailer at Moody's Lane this Friday 9/20 between 5 & 6:30 pm.
Contact Diane McDermott for more details   mcd1and3  (at)  yahoo  .   com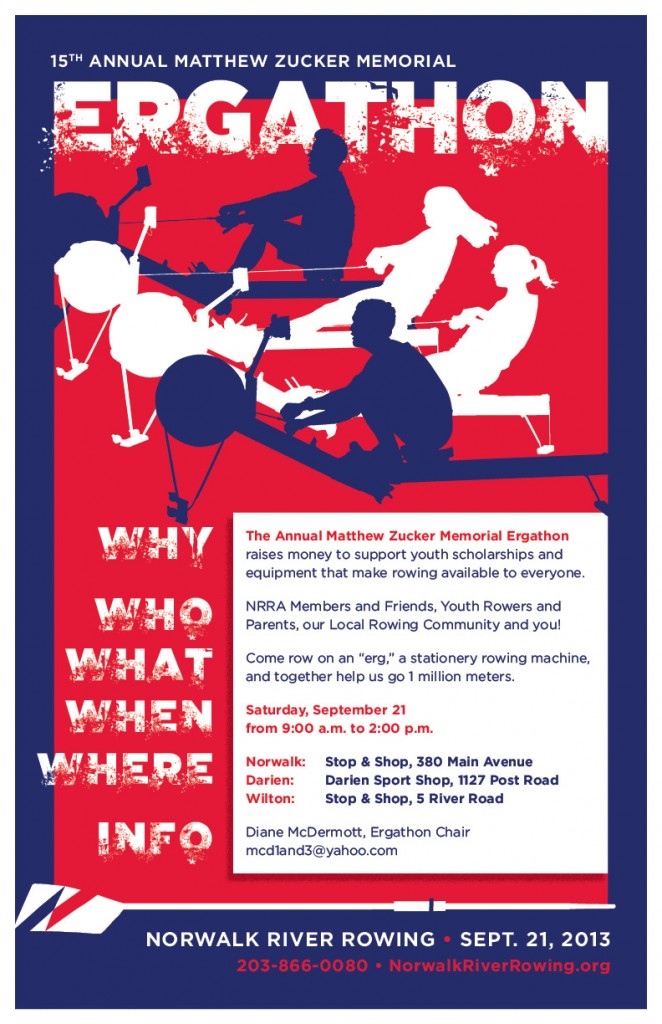 Why: The Annual Matthew Zucker Ergathon raises money for the Matthew Zucker Memorial Fund to support youth scholarships and equipment that make rowing available to everyone
Who: NRR Members and Friends, Masters Rowers, Youth Rowers and Parents, our Local Rowing Community and you!
What: Come row on an "erg", a stationary rowing machine, and together help us go 1 million meters
When: Saturday Sept 21 from 9am – 2pm
Where:
Norwalk: Stop and Shop – 380 Main Ave
Darien:  Darien Sport Shop – 1127 Post Road
Wilton: Stop and Shop – 5 River Road
Info: Looking for more information – please contact:
Diane McDermott
mcd1and3  (at)  yahoo  .   com