The Norwalk River Rowing youth teams had a strong opening to their fall head season at the Tail of the Fish last Saturday, returning home with 12 medals: three golds, two silvers and six bronzes.  This was the youth team's first visit to a Saratoga Springs race in several years.  The day was very warm and, after a delayed start due to fog, quite sunny.  Twenty-six clubs entered 310 boats in the regatta, with 27 of those entries coming from Norwalk River Rowing.

The gold medals w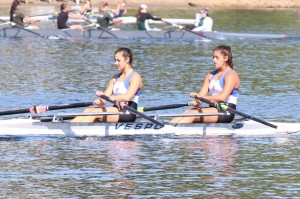 ere earned by the Boys Varsity 4+, Boys Varsity 2-, and Girls Varsity B 2x.  The Boys Varsity 4+ beat the second place boat by 21 seconds in a race that lasted just a bit more than 11 minutes.
Silvers were garnered by the Boys Varsity 8+, Girls Varsity 4+ and Boys Varsity B 8+.
Bronze medals were earned by the Girls Varsity 2x,  Boys Varsity 1x, Boys Varsity B 2x, Boys Varsity B 1x, Girls Novice 8+, and Boys Novice 4+.  The Boys Varsity 4x finished only one-one hundredth of a second out of medal contention.
Some pictures have been posted to our Facebook Page:
https://www.facebook.com/Norwalk.River.Rowing.Association
You can find LOTS more pictures at this Dropbox Account