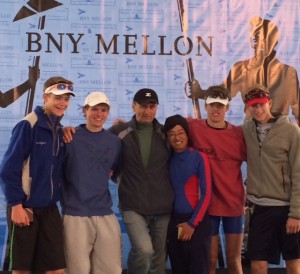 Norwalk River Rowing's Men's Youth 4+ powered to a fifth place medal in a field of 85 boats at the 50th Head of the Charles last Sunday.  The boat, consisting of Kris Petreski (Junior) at stroke, Greg Bauerfeld (Senior) at 3, Brian Helms (Senior) at 2, Liam McDonough (Junior) at bow and Patrick Lyon (Senior) at cox, has been together and winning in various configurations for some time.  In the summer of 2013, this squad won a Silver medal at Club Nationals in the under 17 category with Jamie Fagan (Junior) coxing.  This fall they won gold at all three previous fall regattas (Tail of the Fish, Head of the Riverfront and Head of the Housatonic).
Norwalk River Rowing was fortunate to bring seven boats to the Head of the Charles, with boats from all three programs participating, providing 33 athletes with an opportunity to participate in one of the largest international regattas around.  This 50th Head of the Charles Regatta had 2,252 entries from 776 clubs and 28 countries.
Five of the seven boats that competed for Norwalk River Rowing qualified for guaranteed entries for next year.  In addition to the 4+, the youth qualified a Men's Youth Double and a Women's Youth 4+.  The Men's Youth Double was rowed by two seniors, George Mgaloblishvili and George Conover, and finished 11 out of 42 and within 4.29% of first place.  The Women's Youth 4+ was powered by four seniors, Olivia Clark, Gillian Castro, Nicole Vacas and Amelia Ornato, and coxed by junior Jamie Fagan.  It finished 26 out of 85, improving from its 32 seed.
The Masters qualified a Women's Senior Masters 4+ (50+) and a Women's Masters Double (40+) for guaranteed entries next year.  The Masters 4+ was rowed by Sarah Kline, Peggy Danneman, Elisabeth Stonehill and Laura Case and coxed by Malcolm Watson.  It finished 24 out of 54.  The Women's Masters 2x was powered by Juliet Brocki and Leslie Foale and finished 7 out of 15 and within 4.37% of first.