At a ceremony in mid-November, three Norwalk River Rowing Varsity rowers were signed to Division 1 Rowing programs.
NRR coaches Yuri Kolomiets and Stephanie Dryer stood proudly by as Gillian Castro, Olivia Clark and Amelia Ornato each signed National Letters of Intent for their respective Collegiate Rowing programs for Fall 2015.
Below is an excerpt from the Norwalk Hour who covered the ceremony:
The Nor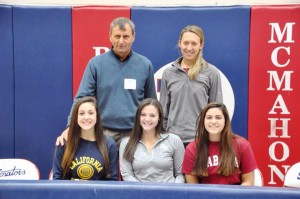 walk River Rowing Association has been making waves in recent competitions, including a first-place finish in the Head of the Housatonic competition in October. The success of the squad can be greatly attributed to the efforts put forth by a trio of Brien McMahon rowers, who have each showcased a strong work ethic thru [sic] the years.
Olivia Clark is set to take her rowing prowess out West, with the senior signing a letter of intent to compete for The University of California, joining a renowned program that annually finds itself in the National Championship mix.
"I'm very excited to go out there. It's a lot warmer and it's one of the best schools as far as always competing for an NCAA Championship," said Clark. "I'll miss my teammates and coaches here in Norwalk but I'm excited to start competing in California."
Teammate Amelia Ornato caught the attention of one coach in particular following an impressive showing on a big stage, setting in motion the talented senior's decision to select Stetson University.
"They contacted me and showed a lot of interest in me, and after meeting the coach following one of our most important races I headed out there for an official visit," said Ornato. "Everyone was so nice and welcoming, and they made me feel at home. I feel I have a great chance to succeed and excel there. We work really hard and I'm looking forward to continuing that by taking on more challenges in college."
Meanwhile, Gillian Castro who has also stood out along with Ornato and Clark on the Norwalk River rowing Association team – will join the SEC family as a member of the Alabama Crimson Tide.
"I visited Alabama twice, and each time out there I loved it more and more, which made it a very easy decision for me," said Castro.
Now in her third year of competitive rowing, Castro knew she had found her calling card when she first tried her hand at rowing two seasons ago. "I played field hockey and lacrosse before, but I started rowing my sophomore season and really enjoyed it right away. It's one of the best decisions I've ever made."
[credit: The Hour Publishing Company]
http://www.thehour.com/sports/six-senators-ink-lois/article_ca6db4e8-c831-563c-9a33-aa494b1c3e15.html